The vision was to create pieces that evoke a sense of strength and power. The collection draws inspiration from medieval subjects such as castles, arms and armory and their conceptual symbology. Strong and heavy fabrics were used to embody the lasting and enduring appeal of the collection with a focus on the attention to surface details that accent the unique structure of the pieces.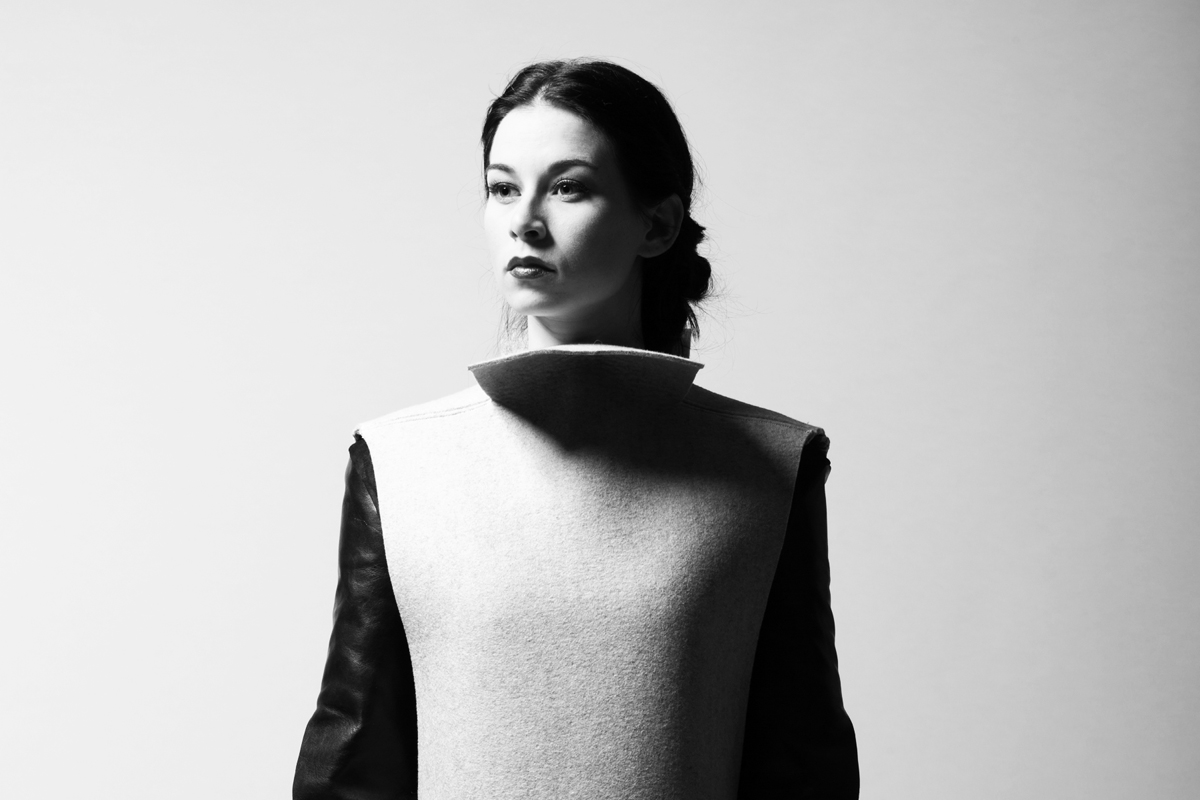 Merino Wool Felt in heathered tumeric creates a structured tabard-effect top. The heavy and stiff everlasting qualities of the felt represent themes of protection and strength.
The blouse is made from Soft pig skin in Plum color with piecing details that create the rounded shape across the chest. Leather sleeves shine against the tabards textures in this look and also have an opening cut-out shape reminiscent of the other angles and points seen throughout the collection.
Celestine colored ultra-suede and hammered satin high-waisted pants accented with rose detail laser-cut cuffs.
Fit for a ruler, this gown incorporates texture and softness with the mixture of hammered satin, and vermillion colored silk organza. The mediaeval cartridge pleated sheer panels cascading around the hips balances lightness that is interrupted by a single pointed solid godet at the center front and center back.
Celestine colored ultra-suede is pieced together by meightered reverse seams that create linear elements that shape the upper body.
Paired with the pleated high-waisted silk/wool twill trousers that have been hand screen printed with the manuscript print.
This Leather parti-colored dress was created using a fusible infrastructure to support the leather and ultra-suede box-like shapes. The leather piecing around the top of the skirt boxes is laser etched with the hand-drawn rose illustration.
Low cropped v-neck cashmere blouse paired with a separating curved hem belt that hugs the blouse creating a layered protective shield around the upper waist.
The beige structured high-waisted skirt is made with a wool-mohair blend infused with a stiffening understructure that supports the angles and box-like shapes of the skirt.
Pleated plum colored silk organza blouse is cropped at the waist. Each pleat is stitched down with a vermillion accent thread, continued into the pleated cuffs and fastened with vintage metal buttons.
Paired with the pleated high-waisted silk/wool twill trousers that have been hand screen printed with the manuscript print.
Vermillion short cape with cut-out shape sleeves, with an open curved shaped front and back.
Plum colored raw edge cut-out shape pencil skirt.